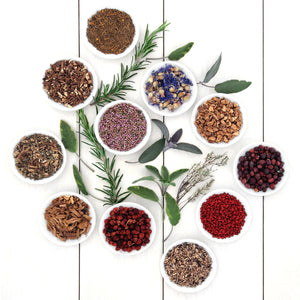 Holistic Health Care Clinic
The physical, emotional, mental and spiritual aspects of who you are all work together to create the picture of your health and well-being. Our clinical herbalists specialize in activating, unblocking, and supporting your healing on every level.
Gathering Thyme's Herbalists
Cheryl Fromholzer
Founder, Western Clinical Herbalist
Cheryl Fromholzer (she/her) finds no greater joy than connecting humans to the deep healing wisdom of the plant world. As a clinically trained Western Herbalist, her goal is to find the partnership between plants and people to bring about physical, mental and emotional balance, working to uncover root causes for profound, long-lasting change. Cheryl has been immersed in Western herbalism and natural healthcare for over 25 years having studied with some of the most brilliant minds in herbal medicine. The Gathering Thyme herb store and school were born of her desire to be of service and share her extensive herbal knowledge. Cheryl believes in each individual's innate vital force and using natural medicine to support and enhance health. Her clinical work with private clients focuses on digestive disorders, endocrine disorders and women's healthcare.
Judy Lieblein
Clinical Herbalist, Shamanic Practitioner & Reiki Master
For over 20 years, Judy Lieblein has been working as a Clinical Herbalist, Shamanic Practitioner and Reiki Master assisting adults, children and animals in addressing their physical, mental, emotional and spiritual concerns. Her work is centered towards cultivating health & well-being, personal responsibility, independence and empowerment through Medicinal Herbs, Flower Essences, Energy work and Self Awareness.

Holding a degree in Clinical/Counseling Psychology as well, Judy takes a holistic approach, customizing the combination of modalities to each clients needs and desires. She incorporates Eastern & Western traditional and alternative practices combining the practical with the intuitive in a safe, caring and compassionate approach. Her specialties are in Plant Spirit Medicine and Spiritual Emergence/Transformation. Judy offers consultations in person and by phone, mentorships and a variety of classes in Shamanic Herbalism/Plant Spirit Medicine.

Modalities Offered:
Herbal-Herb/Flower Essence Consultations
Energy work - Shamanic Healing and Reiki
Counseling - Cognitive, Emotional and Spiritual
Life Coaching
Animal Communication
"
Gathering Thyme is a community treasure. As an acupuncturist and herbalist, I've sent many of my patients there over the years for supplements and herbs, knowing they'll be receiving excellent customer service. Cheryl stocks the highest quality of products and is incredibly knowledgeable about all of them. I personally frequented Gathering Thyme during my pregnancy for their pregnancy tea and it kept me and my baby healthy. Thank you to Gathering Thyme for being a sanctuary of healing and for educating the public about natural wellness!

"
"
Offering expert herbal advice and a beautiful selection of artfully curated herbs from trustworthy sources, Gathering Thyme is an indispensable community resource. They have a variety of house blends, or you can consult with one of the trained herbalists on staff to help you address what ails you. They also offer classes, ranging from making your own bodycare products to programs where you can become a certified herbalist yourself. Whether you want holistic support for your pet, a drug-free approach to hormonal issues such as menopause, training in essential oils, or help getting a good night's sleep, you can find the information and products here to help you take charge of your wellness

"